New DELL XPS 13 Notebook with Ubuntu Linux
Security, Power and Ubuntu
The DELL XPS 13 gives you freedom and security. With the DELL XPS 13 you can reach any goal,
without being spied on. There will be no more limits.
It's the one Notebook, that makes everything possible for you.
Don't think about if you can do it, just think about how you do it.
Perfect Keyboard
The XPS 13 keyboard makes no compromises. It is as good as a full sized desktop keyboard and it is backlit. You will make less typos und will get more work done faster – also in low light.
The function keys can be operated with just one finger, thus you can adjust the volume or jump to the next song, even if you have one hand free. Useless keys have been removed from the keyboard.
The softtouch palmrest feels great when you are typing; no freezing feeling when you touch it. You will love it.
Extra Big Touchpad
The big XPS 13's touchpad show you, how Multi Touch should work. The different gestures make it easy to navigate und fun to work with the XPS 13. You will love the glass made surface. Discover a new feeling using touchpads.
HD-Camera
Experience great Hangouts with your friends and organize video meetings with business partners.
Display And Camera
The state of the art Full HD display with 1080p gives you a first class point of view.
Sharper Details
The XPS 13 comes with a Full HD display, that means whooping 1920 x 1080 pixels. That is twice as much as most other Ubuntu notebooks.
Brighter Display
The display is up to 75 % brighter than most displays on the market. Experience movies and images like never before.
Wide Viewing Angle
The XPS 13 has a 178-degree viewing angle, this way you can share your content with your friends and family.
Ready When You Are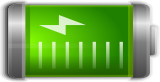 The XPS 13 comes with a powerful 6 cell battery and is optimized for long battery life. It brings you through the day.
Works Even Better Than It Looks
The XPS 13 comes with enough power for all your tasks. With Intel Core processor and and Intel HD Graphics 4000 you have enough power even for ambitious jobs like photo editing, video rendering, movie editing and software building.
At the same time those processors help the XPS 13 to have a long battery life.
Finish Your Jobs Faster
To finish your jobs fast, you need the right tools. The XPS 13 has all important software you need already included: writing letters and mails; research on the Web; editing images or create the newest web app - you have the tools you need.
The XPS 13 comes with a full featured office suite pre-installed. So you can create academic papers, exact financial plans or exciting presentations.